Simplifying a Complex Story
Hexagon Metrology makes tools that help engineers build incredible things. From great dams to the Mars Rover, Hexagon's hardware and software products are shaping the world we live in – and the one we'll live in tomorrow.
With a resume like that, telling a story like Hexagon's can seem like a daunting task. But we saw it as a creative opportunity.
So we began sketching…

At Monstro, watering down our client's work is never our goal. We want our work to be as accessible as it is smart, telling stories in a way that respects both the client and the audience.
We asked ourselves: What does Hexagon mean to everyone? Most of our lives have been touched by their work, but very few of us realize it. So we had to show how Hexagon's work is not just meaningful, but fundamental: a foundation upon which great achievements are built.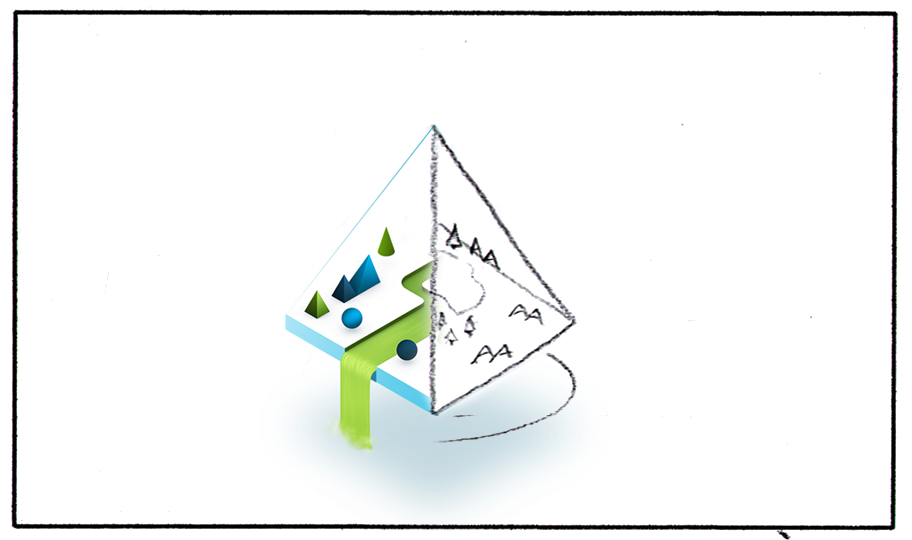 There are many ways to represent such an idea, but the one that struck us as the strongest visual metaphor was geometry. It's a foundational concept that we learn as kids before fading away to the backchannel of our mind. Yet geometry is fundamental; it's reliable; it's ever-present.
Keeping simplicity and elegance in mind, we arrived at a piece that captures the big picture of Hexagon's work. Like geometry, it's a foundation for progress: Something that is present everywhere, even if we don't notice it.
Click here to check out the video.
As is often the case, the incredible Alexander Perry joined us for this project, and his creative muscle really came through in the final concept & design of the project. Along with Mr Perry, Michael Wilson was the mastermind behind animating many of the breathtaking moments in the piece.